In most mock drafts, Creighton Bluejay's senior Doug McDermott has been picked as a second round pick at best, which makes us think he is a sleeper going into next season. During the off season, it came as no surprise that McDermott would choose to play in his senior year of college instead of heading to the NBA draft. The Jays won their conference and the first round of the NCAA tournament, the team was on the move to the Big East, which would take them out of the mid-major category, and his father, Greg McDermott was the head coach.
The only thing that could go wrong was not having room to take back point guard Grant Gibbs, if he was lucky enough to be granted a 6th year. Lucky enough for the Jays, he was, and they had a coach that was smart enough to keep them both. Being Doug's father, Coach McDermott was able to go through a loop hole and make his son a walk-on player, and pay for his tuition out of pocket. This would leave one more scholarship for Grant Gibbs, and possibly make Doug McDermott one of the best walk-on players in NCAA history.
Given that 6'8, 225 pound Doug McDermott decided to play out his four years in college with the Jays, scouts have had more than enough time to point out his flaws, and his skills that he will bring to whichever team calls his name on draft night. McDermott is an excellent shooter, both from inside and outside the three point line. He is a strong post player, plays well off the ball, and can create his own shot. His main weakness in the NBA will come on defense, where he will often have matchup problems.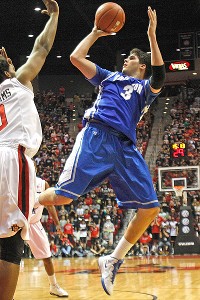 One of the most notable players to come out of Creighton was Kyle Korver, who was drafted late in the second round of the 2003 draft to the Philadelphia 76ers. Korver made a name for himself with his three point shooting, and recently made news for setting a record of having made a three point basket in 90 straight games. Doug McDermott is easily compared to Korver.
This 2014 draft class is said to be the best since the 2003 draft class, which featured LeBron James, Dwayne Wade, and Carmelo Anthony. Players such as Andrew Wiggins and Jabari Parker will be at the head of this class. But if you're a coach, what makes you not want a guy like McDermott on your team. A kid with a great attitude, great shooting ability, and good size. Korver was a huge surprise for the 76ers, and Doug McDermott will be a pleasant surprise for whoever decides to make him their pick.
Through nine games this season, McDermott has led his team to a 9-2 start, averaging 25.3 points per game, along with 6.9 rebounds. These numbers include four 30+ point games and a national player of the week award. McDermott was one of just two college athletes to compete with Team USA this summer in mini-camp. This camp is designed for the younger players and potential future stars for Team USA.
David Teixeira is a writer for Hoop-Nation. Follow him on Twitter at @DavidCCU03