Ok so i am giving articles trys again. After reading up on ballparks I will make my list of top 5 MLB hitters parks.
5. U.S. Cellular Field, Chicago White Sox
This wasant always a hitters park. But then one thing led to another. Following the 2000 season the left field fence was moved from 347 to 330 and the right field fence 347 to 335. The result a hitters dream for baseball. Numbers at this park have shot up ever since the move. This is why I prefer wrigley field.
4. New Yankees Stadium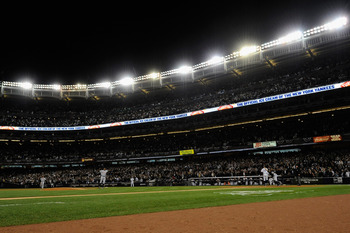 i hate the yankees. But I love when the rangers play here. Even the worst scoring team in the league could post runs here. The really short walls in right (318) and short left field (318) left field. This park is easy for hitters to knock one out of the park. There is also a jetstream that often can push homeruns into right field that would normally be a deep flyout. The numbers might inflated by the yankees but from what I have seen from watching yankee games, the score is always high.
3. Great American Ballpark Home of the reds.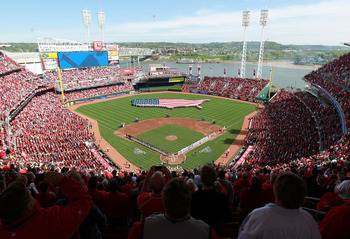 I honestly didnt think of the reds ballpark when reading my sources but this ballpark has to be included. Very short distances down the line make this a heaven for longball hitters. Also the alleys are very deep making this a good place for doubles also. But when you have powerful guys like Bruce and votto the numbers are bound to be inflated. But most hitters well tell you they love hitting here. I guess thats why its called great american ballpark.
2. Rangers Ballpark in Arlington.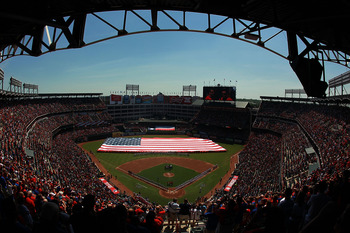 Not even lieing I dont have to read an article to know this is one of the best offensive parks in baseball. So many things factor into this stadiums power numbers. The winds always blow out. So the home runs come easy here. There is no favorites in this park. Left handed or right handed this park is a power threat for both hitters. Dimensions are also pretty low. Dry air also factors into ths parks power numbers. Another theory is that the extreme heat in texas wears down pitchers into making mistakes. Only reason this isnt number one is because the dimensions aren't very deep not allowing as many doubles. But look at the hitters texas has had in the past years. Hamilton, molina, kinsler, cruz, guerero, moreland, murphy, sosa, A-rod. I could go on forever.
1. Coors field Home of the Rockies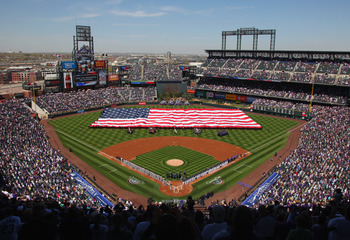 I did not think I would find a better hitters park then rangers ballpark. I stand corrected. Let me ask you what is denvers nickname? The Mile High City. At this altitude the ball travels further distances due to the thin air. Thats the main theory. A humidifier system has been setup to try to limit the easy homeruns. Also the ballpark has the deepest walls in the game. Ballpark gives up the most doubles and triples in baseball today. Also the rockies havent had any good starters so that also adds to the numbers.
I hoped you baseball fans like this I took refrences from these links
http://bleacherrepor...league-baseball
http://www.billjames..._hitters_parks/
I will be doing a best pitcher friendly parks soon.