Sprite Slam Dunk Contest:
As everyone may know, the officially have All-Star weekend ready to go. Last Thursday, which is TNT Thursday, Charles and Shaq picked their teams for the Rising Star Challenge. Followed by that, they had the announcing of the Sprite Slam Dunk Contest. Right now, I'm going to take the time to spotlight each of the contestants, and provide a video of their dunks, courtesy of the NBA.
Eric Bledsoe – This is the first time Bledsoe has ever been picked to participate in an All-Star event. Bledsoe, joined the NBA in 2010, snatching the 18th overall pick by the Oklahoma City Thunder. Even tho the Thunder got this pick, they traded away their draft rights of the Kentucky guard to the Los Angeles Clippers. Till present day, Bledsoe has been known for his hard slams and getting to the basket. With his a jumpshot being a small issue, his game revolves around making contact around the basket.
Eric Bledsoe Preview – http://www.youtube.com/watch?v=YDG3m4dH-jg
Jeremy Evans – When last years dunk contest came around, not many people knew who Jeremy Evans even was. This guy came out of no where, and put on a show for everyone who was watching the dunk contest. Evans, standing at 6′ 9, makes him a long player. Some of the dunks that he performed last year left people with their jaw on the ground, but from recent years of other dunk contests, some were not as impressed. Evans ended up winning the Sprite Slam Dunk Contest last year during All-Star weekend. Evans really hasn't shown much this season, since he's really only known for his dunking and does not get much playing time. So far this season he has only played in 22 games.
Jeremy Evans Preview – http://www.youtube.com/watch?v=WVVmOncDgLw
Gerald Green – Gerald Green is a player that leaves people just sitting there wondering, how does he do that? Last year, he had one of the dunks of the year when he was on the New Jersey Nets. This lob was thrown by Marshon Brooks, and my was it insane. On this windmill alley-oop, he was able to get mouth above the rim as he slammed down the windmill. Green will be representing the Indiana Pacers as he goes to take flight in the Sprite Slam Dunk Contest next weekend. We have seen Gerald Green in the dunk contest before where he blew the candle out that was on top of a cupcake that was sitting on the rim.
Gerald Green Preview – http://www.youtube.com/watch?v=Mf2s2KTWQJw
Kenneth Faried – This will be his first appearance in the Sprite Slam Dunk Contest. Being an undersized power forward in the NBA, he still manages to put up good numbers for the Denver Nuggets. So far, Faried has not missed a game all season for the Nuggets, playing in all 50 of them. Faried's unique nickname fits him perfectly, "The Manimal." He gained this because of his high intensity, passion, and toughness that be brings to the floor every night. Definitely going to be an exciting contestant to watch this year. With Faried, he's not really a flashy type dunker, most of the dunks that Faried does at two handed slams.
Kenneth Faried Preview – http://www.youtube.com/watch?v=qigvFquCdY8
James White – Many people know of James White from his stunning dunks that he does. He has yet to participate in an NBA dunk contest, until this year. The only other dunk contests, that he has taken part in, was in the D-League dunk contest, and a dunk contest when he played overseas in Turkey. White has played in 32 games this year for the New York Knicks. This guy is going to be a sight to see as All-Star week slowly approaches.
James White Preview – http://www.youtube.com/watch?v=bGdq3kD5CTY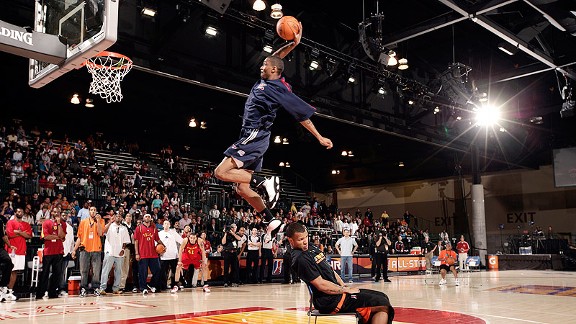 Terrence Ross – Terrence Ross is in his first season in the NBA. Drafted by the Toronto Raptors with the 8th overall pick in the first round. Ross, has only missed three games out of the 50 the Raptors have played this year. Averaging around 17 minutes per game, he manages to average 6.7 points per game. So far in the season, Ross has already had many dunks that could be considered dunks of the year. On fast breaks, he breaks out the flashy dunks that could be seen in a dunk contest. He has the confidence that he will finish off these one handed windmills in game.
Terrence Ross Preview – http://www.youtube.com/watch?v=dlvQWuqEC10
(Via Dr. James / Hoops-Nation.com) Twitter: @HN_DR_James